889 Houston Northcutt Blvd.


Mt. Pleasant, SC 29464
(843) 388-0580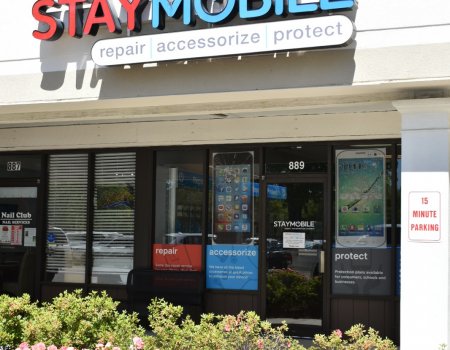 Stop by our Mount Pleasant repair store, located conveniently in Patriots Plaza on off of Houston Northcutt Blvd. Walk-ins are welcome and we always offer diagnostic testing before beginning any service. Plenty of parking is always available for fast drop-off and pickup. Drop your phone off with our staff, get some shopping done at the other great stores in Patriots Plaza and we'll have your phone ready when you are done
Address
Patriots Plaza
889 Houston Northcutt Blvd.


Mt. Pleasant, SC 29464
Hours
Mon-Fri: 10am - 6pm
Sat: 10am - 3pm
Sun: Closed
Special Offers in Mt. Pleasant, SC
Emergency Services Discount
Emergency service professionals receive 10% off any on-site repair. Discount is available to fireman, police officers, Emergency Medical Technicians (EMT) and any other members of emergency services. Must show I.D. or badge as proof of profession.
Educator Discount
All educators and education staff members receive 10% off any on-site repair. Must provide a valid .edu email address.
Military Services Discount
All active and retired military personnel receive 15% off any on-site repair. Additionally, veterans interested in becoming a Staymobile franchisee, the repair-services company will fund 20% of the initial store investment, which includes the build out, initial inventory, signage, computer hardware, fixtures, equipment, grand opening advertising, and more. Must show military I.D. as proof of profession.
Multi-part Bundle
For repairs requiring multiple part replacements, receive 40% off each additional part following the first. Individual parts cannot exceed $100.
Lifetime Guarantee
Lifetime Guarantee on all parts and labor
Broken Smartphone? Cracked iPad Screen?
Staymobile is Charleston's #1 cell phone repair store. We offer repairs on all brands including Iphone, Samsung, LG and Motorola. Our A+ certified technicians provide the friendly, professional, fast, reliable service. We repair tablets and laptops. Broken screen on your ipad? Virus removal making your laptop slow? Need to retrieve data from your device? We got you! Our technicians are A+ certified and Lenovo certified.
Got a drawer full of smart phones you aren't using? We buy old phones, refurbish them and sell them. Need a refurbished cell phone to keep you going till the next latest, greatest Iphone comes out? Come in and let us hook you up with a Staymobile refurbished Iphone, Samsung or LG.
Cell phones are expensive these days. Technology is always moving forward and mobile devices are becoming an integral part of our daily lives. Protection is key for expensive phones. Staymobile offers tempered glass, the latest in phone cases as well as affordable protection plans. We offer ½ price on tempered glass when we repair your cell phone. All of our cases are best of breed and Staymobile certified to provide top of the line protection. Otterbox, Spigen, Catalyst, Lifeproof…we have all the best brand names in cell phone cases. Don't like the bulky cases? Sign your phone up with a Staymobile protection plan. For as low as $59 and zero deductible, Staymobile will protect your cell phone by repairing whatever goes wrong. Broken screen, battery or charge port replacement, head phone jack replacement? We will repair whatever goes wrong with your phone and did we mention, there is no deductible?
Providing the highest level of personal service is our priority. We repair most mobile devices within the hour, and our industry leading Lifetime Guarantee on most repairs means that you can rest assured your device is completely covered.
Education Solutions
We understand your investment in giving students the freedom to learn inside and outside of the classroom with their mobile devices. We also understand that supporting this mobile learning may be uncharted waters for most. With 10,000+ tablets supported today across K-12, Staymobile provides repair solutions, warranty solutions, diagnostic solutions and more to schools and universities. You have put learning into your students' hands. Let Staymobile help you keep that cost-effective.
View Our Education Solutions
Enterprise Solutions
You don't hit the pause button on your business when employee smartphones, tablets and laptops are damaged or stop working. Staymobile is the only industry provider that has full service device program that focuses on maintenance, repair, protection and warranty assessment. Over 300+ businesses across all sectors trust Staymobile with Staymobile's enterprise solutions. Because there is no pause button on your business, and we know that.
View Our Enterprise Solutions