Education Solutions
You put the tablets and other devices, into the hands of kids to accelerate learning. But were you ready for protecting and managing these devices? Staymobile is here to partner with you. With over 200+ K-12 schools currently serviced, Staymobile has the expertise and the industry-leading services like a lifetime guarantee, like new parts, pick-up-delivery, and our superiorly certified technicians. With a robust focus on continuous improvement and operational excellence, Staymobile will pick up and deliver your devices, provide protection plans that save your school money, and work to drive productivity and satisfaction at your school.

Education is one of the most important pathways to a better future, and at Staymobile, we are committed to keeping students and faculty connected with the technology they need. As more schools provide laptops to their students, they're making massive investments into fragile technology that's being handled by young people on the go. Since there are so many opportunities for breakage, our team partners with schools to protect their technological investments.

The IT staffs in school systems aren't growing nearly as quickly as the dependence on technology, and students can find themselves in a stressful situation when there's no recourse for their tech problems. Staymobile's responsive group of experts is equipped to handle all the different aspects of managing education technology. Our Constant Connectivity Program is specifically designed to assist students from first boot to repair services and everything in between.
Contact An Education Specialist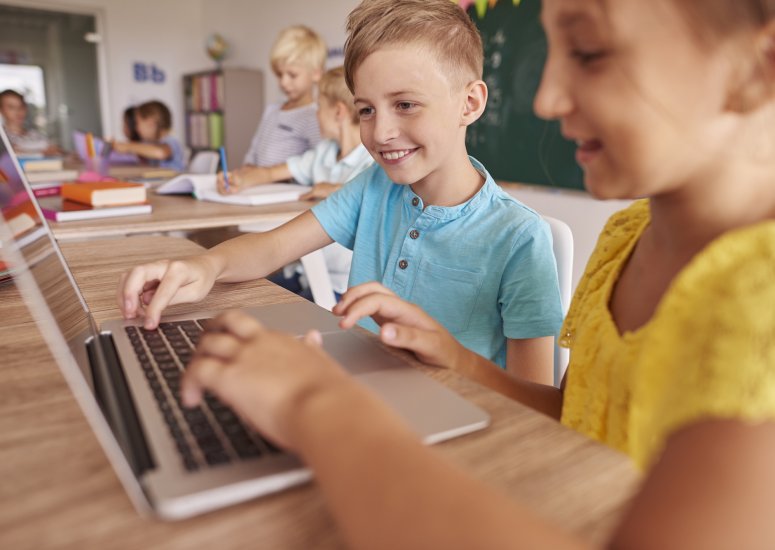 Let Us Protect Your Investment
We understand your investment in technology provides students the freedom to learn inside, and outside the global classroom. Protecting that investment is a priority for Staymobile. With over 2 million devices under protection, maintenance, and repair services, Staymobile understands the responsibility to keep student devices running at optimal performance at all times, and not in a state of repair.

Regardless of your school or district size, we offer a variety of solutions to protect and maintain your investment, while saving unnecessary expenses and time.
Learn About K-12 Solutions
IT Support for Schools
Without technology, students can feel disconnected from the world, and it may even put up a roadblock as they pursue their education. Our mission is to step in and provide the computer, tablet, and cell phone repair school systems need. Students, teachers, and faculty alike can count on our team to provide a seamless experience defined by fast service. Contact us today to create a custom plan and ensure your faculty and student body all stay mobile!
Capabilities – Repair, Accessorize, Protect
Staymobile offers the parts, equipment, and expertise to handle programs of all sizes, from five devices to 500,000. Our protection plans come with $0 deductibles, and we have trained staff members waiting to spring into action at a moment's notice.
Our service capabilities extend to all of the following and beyond:
Android Devices like Samsung Smartphones
iPhones of Any Generation
iPads and Other Tablets
Laptops from Chromebooks to MacBook Pros
Game Systems
We can service absolutely any device! Our white glove service reduces cost and downtime, and we'll make it easy to schedule pickups and returns. The expert technicians at Staymobile can configure operating systems on new devices, or update them to work smoothly with your school's existing standards. We'll even physically tag all of your devices so you can rest assured that your property is being tracked. At Staymobile, we are also committed to sustainability, so we keep the entire process green by recycling all packaging on our end.
Contact An Education Specialist
Clients Love Our Education Solutions
Staymobile, and specifically Nathan Voisine, have been wonderful to work with in our school system. They have been fixing our iPads for over a year now, they have been very quick to respond to our requests and have always been willing to work within our system specifications. I would recommend their service highly.
Greenville City Schools
Carroll County Schools has been very pleased with the support we receive from Staymobile. The fact they are willing to visit our schools, pick up our broken devices and return them repaired places them in a league of their own. The time, energy and money we save with Staymobile allows our department to focus on the vital aspects of technology that keep teaching and learning going at a high level.
Carroll County Schools
Staymobile has been a wonderful resource, this school year, as Charles Ellis Montessori began its 1:1 Initiative with our seventh and eighth grade students. Staymobile attended meetings at the beginning of the year to inform our families about the insurance that was provided with our devices and helped clear up questions. Staymobile also has been attentive to our repair needs, always being timely and professional in their pick up and delivery. We have appreciated this service and attention!
Charles Ellis Montressori